Robbery Attorneys
Are you facing charges for robbery and don't know where to turn? Let our experienced robbery defense attorneys at The Foley Law Firm take on your case in Colorado Springs.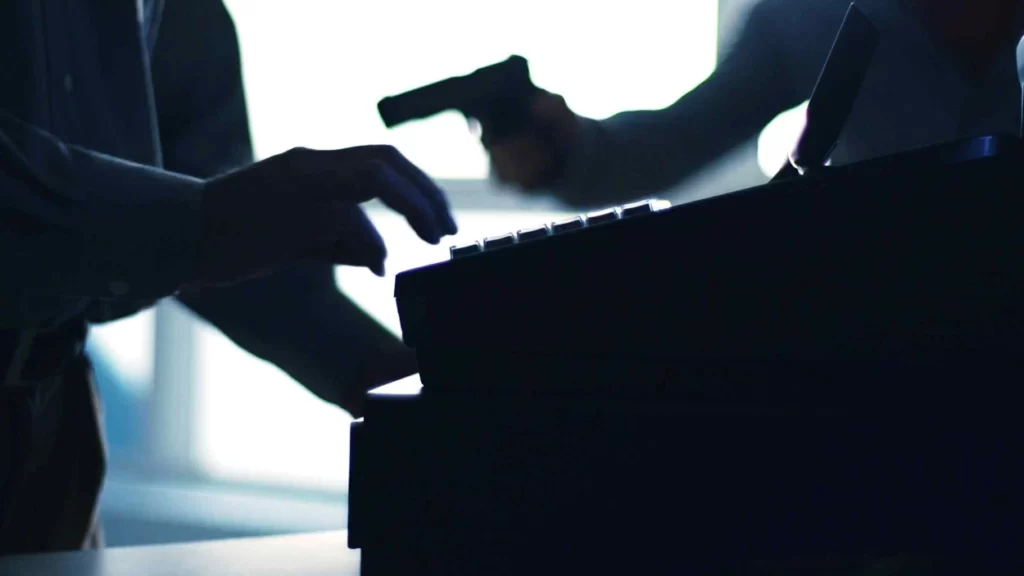 Defense Attorneys for Robbery Charges in Colorado Springs, CO
If you have been accused of committing robbery in Colorado Springs, you probably have lots of questions. Do you have to pay fines? Will you go to jail?
Our robbery defense attorneys at The Foley Law Firm serve the Pikes Peak area, and our legal team is here to help you understand Colorado's burglary laws.
Types and Degrees of Robbery in Colorado Springs, CO
Colorado defines robbery as a theft that involves force or the threat of force in the presence of a victim. Robbery is a Class Four felony punishable by up to six years in prison and up to $500,000 in fines.
A robbery escalates into aggravated robbery, A Class Three felony punishable by up to 12 years in prison and up to $750,000 in fines, if the accused:
Has a deadly weapon or any other article that the victim would assume is a weapon, or states that they have a weapon
Knowingly strikes or wounds someone, putting them in reasonable fear of injury or death
If the accused uses force to steal controlled substances, Colorado considers that a Class Two Felony punishable by up to 24 years in prison and up to $1 million in fines.
If you're dealing with robbery charges, contact our robbery defense attorneys at The Foley Law Firm by calling (719) 757-1182 today.
Most Robberies Are Felonies, Often Carrying a Long Prison Sentence in Colorado
Unlike misdemeanors, which carry lighter fines and often no prison sentence, the punishment for robbery is much more severe. Colorado usually considers robberies to be felonies, and that can translate to many years in prison if the accused is found guilty of their crime.
Colorado also takes robbery with the intent to steal controlled substances very seriously. Punishment may include more than two decades in prison and up to $1 million in fines.
Robberies Are Crimes Against a Person, and Alleged Use of a Weapon Increases a Charge's Severity
It's common to confuse robbery with burglary, but they're not at all the same thing. Robbery carries harsher penalties than burglary because it's considered a crime against another person.
If someone accuses you of wielding a deadly weapon — or even if you say you have a deadly weapon — the punishment is even more severe. You could have an additional six years added to your sentence for aggravated robbery, plus fines of up to $750,000. This is why you need an experienced robbery attorney to build a strong case on your behalf.
Contact a robbery case lawyer to discuss your charges and start strategizing as soon as possible.
Hire an Experienced Private Defense Attorney Instead of Accepting a Public Defender to Represent You in a Colorado Springs Robbery Case
If you're facing robbery charges, you may have been offered a public defender to take on your case. But if you care about your future, it might not be smart to accept. Public defenders deal with heavy caseloads, which means they won't have the time to give your case the attention it truly needs.
Why else should you say no to the public defender? Because unlike criminal defense attorneys, public defenders don't focus on robbery laws. When you are dealing with a charge as serious as robbery, you want an experienced robbery defense attorney who knows the ins and outs of criminal defense law.
Defend Your Future by Working With The Foley Law Firm — Colorado Springs Attorneys Experienced in Criminal Defense for Robbery Charges
Being accused of robbery is frightening and confusing, especially if you're facing serious fines and prison time for aggravated robbery or robbery involving controlled substances. Fortunately, you don't need to face this ordeal alone — or with an inexperienced public defender working your case.
Whether you want to learn more about your defense options or just need someone to tell you your rights, reach out to us. Our legal team is here to help. Call us at (719) 757-1182 for a free consultation with our robbery defense attorneys at The Foley Law Firm today.
(719) 757-1182
Why Choose The Foley Law Firm?
We can put your life back together. Unlike other law firms, we remain accessible to answer your questions and help you navigate important decisions from the moment you contact us until your case is resolved.
Founded by David W. Foley, who, as a former prosecutor, designed the training program for the prosecutors at the 4th Judicial District Attorney's Office
Community-minded legal advocacy in Colorado Springs and the Pikes Peak area
Consistent communication to coordinate your defense strategy
Personalized, committed service and respectful, neighborly treatment
Experienced guidance and strategic direction — bringing you peace of mind
Free consultations for criminal defense cases
We're One of You; We're Here To Help

Our Team Members

Our Location