Theft Attorneys
Are you facing potential theft charges and aren't sure where to turn? Consider reaching out to a knowledgeable theft attorney serving Colorado Springs, CO, and the Pikes Peak region. Our criminal defense attorneys at The Foley Law Firm can examine your case to determine different ways you can proceed.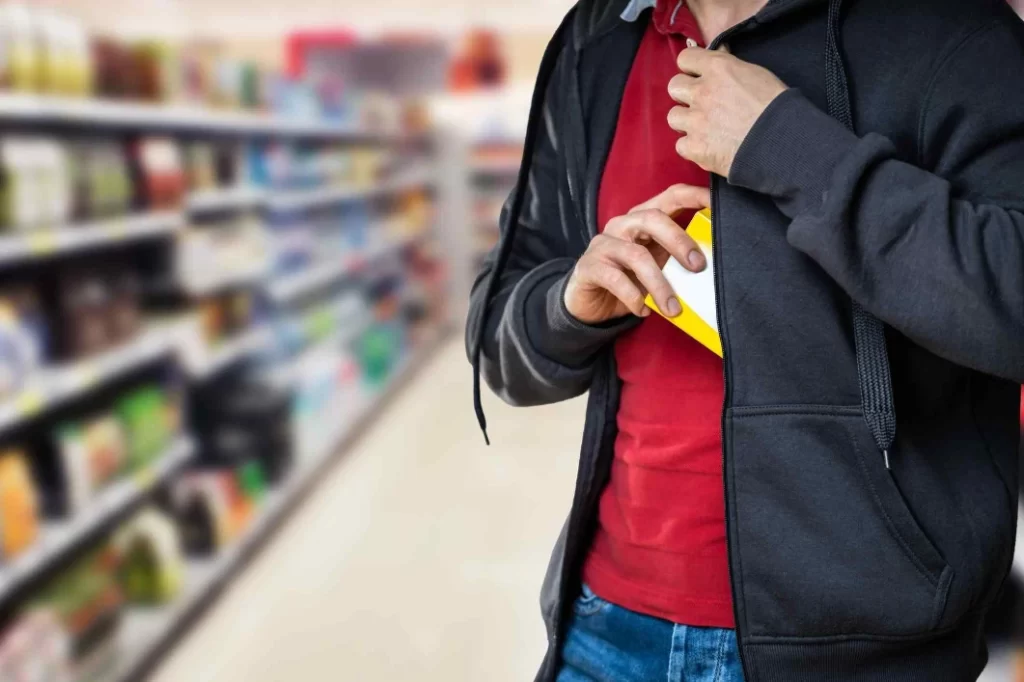 Theft Defense Attorneys in Colorado Springs, CO
When you're facing theft accusations, you'll likely need help from a qualified theft attorney.
Maybe you took an item completely by accident. Maybe you planned on returning something but just haven't gotten around to it yet. Maybe you thought someone was giving you the item to keep, but it turns out that's not the case. Now, you're staring down theft charges and wondering where to turn.
That's where we come in. Our legal team is here to represent you in court and help defend your rights.
Types and Degrees of Theft in Colorado Springs, CO
Theft can be classified into several different degrees, depending on the amount stolen:
Petty theft for items worth less than $300
Class 2 misdemeanor for items between $300 and $1,000
Class 1 misdemeanor for items between $1,000 and $2,000
Class 6 felony for items between $2,000 and $5,000
Class 5 felony for items between $5,000 and $20,000
Class 4 felony for items between $20,000 and $100,000
Class 3 felony for items between $100,000 and $1,000,000
Class 2 felony for items worth more than $1,000,000
According to Colorado law, things like shoplifting and larceny are also considered forms of theft. Call today to schedule a FREE consultation with our criminal defense lawyers, and we can discuss the details that may apply to your unique case.
Distinguishing Theft from Burglary or Robbery in Colorado
Colorado theft laws might be pretty broad, but that doesn't mean they cover every crime where someone steals something.
Theft, burglary, and robbery all seem pretty similar. It's easy to mix them up — after all, all of them involve stealing someone else's property. That said, similar isn't the same, and there are some important differences between the three crimes.
Theft occurs when someone knowingly takes an item from another person without intending to give it back or pay for it. When someone commits theft, they're either taking something without permission or tricking someone into giving permission.
Robbery is similar to theft since it also involves taking something from someone else. The key difference is that robbery is taking something by force, while theft typically only involves deception.
Burglary is a bit different than the other two. Burglary involves breaking into a building — whether that's a home or a business — to commit a crime. While this might usually involve stealing something, it doesn't necessarily have to; just breaking into someone else's place is enough.
We Will Seek to Negotiate Towards Mitigating Severe Consequences in Your Theft Case
Theft can have a very wide range of consequences depending on the items stolen. Petty theft might be the least severe, but that doesn't mean everyone can afford to pay the fines or spend time in jail. And if you're charged with a more serious crime, you could face fines that feel impossible to pay.
Our legal team aims to help you lessen your charges. We can argue that the item isn't worth as much as the prosecution thinks, that you didn't mean to take the item, or one of various other defenses. Our goal is to provide you with support to help protect your rights.
Various Facets of Your Future Can Be Sabotaged by a Theft Conviction
A theft conviction could cost you huge amounts of money. If you're lucky, this will just decimate your savings; if you aren't, you could potentially end up ruined financially.
But fines aren't the only consequences of theft. In addition, you might find yourself facing jail time. Maybe you won't spend a lot of time in jail; however, depending on the charge, you might spend years in prison, which can severely impact your freedom. And that's not to mention what happens when you're out of jail, since a conviction will stay on your criminal record. Repeat offenders can end up facing more serious charges, and even one conviction could potentially affect your ability to hold a job.
We understand Colorado theft laws and can provide you with reliable representation. We've worked in the legal field for years; Our founding criminal defense lawyer, David W. Foley, Esq., is a former prosecutor, and knows what kinds of arguments our opponents might use to convict you. We'll use that information to help build a case, taking into account any evidence we can gather to help defend your rights.
Work With The Foley Law Firm If You Have Been Charged with Theft in Colorado Springs, CO
We know just how daunting facing theft charges can be. That's why we offer compassionate support and aggressive representation to all of our clients. We want to stand by you throughout your case — no matter what you might be dealing with.
Not sure where to turn? Reach out to our theft lawyers at The Foley Law Firm. Just give us a call at (719) 757-1182 today to request a free consultation. We're ready to examine your case and provide you with advice on how to move forward.
(719) 757-1182
Why Choose The Foley Law Firm?
We can put your life back together. Unlike other law firms, we remain accessible to answer your questions and help you navigate important decisions from the moment you contact us until your case is resolved.
Founded by David W. Foley, who, as a former prosecutor, designed the training program for the prosecutors at the 4th Judicial District Attorney's Office
Community-minded legal advocacy in Colorado Springs and the Pikes Peak area
Consistent communication to coordinate your defense strategy
Personalized, committed service and respectful, neighborly treatment
Experienced guidance and strategic direction — bringing you peace of mind
Free consultations for criminal defense cases
We're One of You; We're Here To Help

Our Team Members

Our Location