Truck Accident Attorneys
When a truck driver causes an accident, it can leave you with serious injuries and property damage. We fight for fair compensation for these damages so that you can get your life back. Contact The Foley Law Firm in Colorado Springs, CO, at (719) 757-1182 for a free consultation.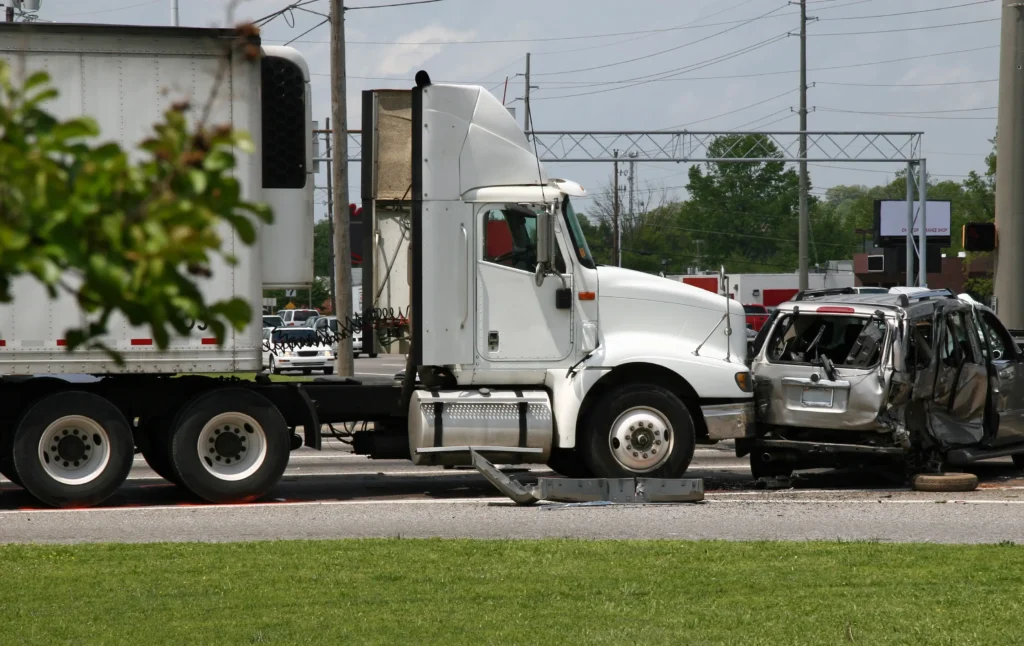 Truck Accident Attorneys in Colorado Springs, CO
The sheer size of commercial trucks can potentially make every accident catastrophic. Passenger vehicles, motorcyclists, bicyclists, and pedestrians are all extremely vulnerable when a truck driver acts negligently or carelessly on the road.
You're likely wondering where to turn in the aftermath of a truck accident. You may have been contacted by the driver's (or their employer's) insurance company, and you must understand your rights and options before accepting a settlement. Contact a truck accident injury attorney as soon as possible to explore the next steps.
Parties That May Be Involved or Responsible in Accidents Involving a Truck in Colorado Springs, CO
While in regular car accident cases, the driver of the other vehicle is typically the person from whom you seek compensation, there could be several responsible parties in a truck accident case. Depending on the situation, one or more people could be liable for your injuries and, therefore, obligated to compensate you.
Potential parties that may be involved include:
Truck driver
Truck driver's employer
Truck owner or operator
Maintenance companies
Truck or parts manufacturers
Companies that made the cargo
Cargo loading companies
State and local governments
Other drivers
Commercial Truck Accident Claims in Colorado Springs are Different from Regular Car Accident Claims
Even a regular car accident claim with one or more vehicles can get complicated, and when a commercial truck is involved, the complexities multiply.
Finding out who is financially responsible for a truck accident is one of the first steps a truck accident law firm will handle. For example, the employer is likely liable if the truck driver is an employee and the accident happened during the driver's normal course of duties. However, if the driver is an independent contractor, the employer may be able to avoid liability, and we would seek to recover from the driver's insurance company.
One advantage we have as we work to determine fault is that there is often additional data available to give us more context about the circumstances of the accident.
For example, GPS data could indicate the driver exceeded the number of available hours they are eligible to drive. Other evidence could include cell phone usage records to prove that the driver was using their phone at the time of the accident.
To help give your case the best chance of success, we recommend contacting us right away. The longer you wait, the higher the likelihood that this evidence will be deleted or erased, and it could be vital to proving your case.
Tractor-Trailer Trucks and Work Trucks are Among the Most Dangerous Vehicles on the Road
Because of the size of the vehicles and the number of hours a driver is on the road, commercial truck drivers require specialized training and a different class of license, referred to as a commercial driver's license (CDL).
Still, truck drivers are only human, and several factors can cause an accident. A driver who has been on the road for several hours could be facing fatigue, increasing the danger of slow reaction times or distractions that lead to accidents. These situations are hazardous because commercial trucks take longer to stop than passenger vehicles, especially when the roads are slick during a rainstorm.
Further, drivers may be traveling roads that are outside of their hometown. This unfamiliarity with the roads or conditions can also increase the likelihood of an accident.
Truck Accidents May Cause Many Severe Injuries in Colorado Springs, CO
According to the Insurance Institute for Highway Safety (IIHS), there were more than 4,000 fatalities due to truck accidents in 2020.
With trucks weighing up to 30 times more than passenger vehicles and having a much higher ground clearance, there is a considerable risk of trucks overtaking smaller cars and causing extreme injuries. By law, drivers can be on the road for 11 consecutive hours. It is already a long time to be behind the wheel, yet many drivers work longer than allowable by law.
As truckers work to meet deadlines or make up for lost time due to traffic, they can take unreasonable risks that can hurt innocent drivers.
Work with The Foley Law Firm — Experienced Colorado Springs Truck Accident Lawyers
Many accident victims are surprised to discover that insurance companies do not have their best interests in mind.
As for-profit enterprises, an insurance company aims to pay accident victims as little as possible. Even more alarming is that they will look for any excuse to avoid paying a fair settlement, including accusing you or your loved one of being at fault for the accident.
Don't let the insurance company railroad you into accepting less than your case is worth. Contact the truck accident lawyers at The Foley Law Firm to schedule a free consultation.
There is no fee unless you win.
(719) 757-1182
Why Choose The Foley Law Firm?
We can put your life back together. Unlike other law firms, we remain accessible to answer your questions and help you navigate important decisions from the moment you contact us until your case is resolved.
Caring and compassionate advocacy to pursue your financial recovery in coordination with your physical recovery
Community-minded service in Colorado Springs and the Pikes Peak area
Consistent communication to effectively voice your interests on your behalf
Personalized, neighborly treatment to allow you relief from stress
We deal with the insurance company and your case details while you get better
Free consultations for personal injury cases
We're One of You; We're Here To Help

Our Team Members

Our Location